According to the WHO, the monkeypox virus is a viral Zoomosis that does transmit to humans from animals with symptoms similar to smallpox patients but it is less severe. It's a very rare disease caused by the monkeypox virus. In 1958 it was first discovered when two outbreaks of pox-like disease occurred in a group of monkeys.
There are two types of clades of this virus one of them originated in Central Africa and the second one originated in West Africa. This disease is not very common but the number of cases in Africa is increasing and also in those regions that haven't seen this infection before. Monkey Pox virus is very rare. For the decades this virus was mostly seen in Africa and occasionally found in countries such as the United States.
This virus leads to flu and rash-like symptoms and is better known as that can cause smallpox. It belongs to the family called orthopoxvirus.
Many animal species have been identified as the cause of the Monkey Pox virus these animals are rope squirrels, tree squirrels, Gambian pouched rats, dormice, non-human primates and other species. Monkey box is a disease of Global Public Health as it affects the rest of the world including west and Central Africa.
The first monkeypox outbreak that occurred outside of Africa was in the US in 2003. which was linked to contact with infected pet dogs. This outbreak led to over 70 cases in the US. Recently monkey Pox has also been reported in many other countries such as Nigeria Israel to the United Kingdom in September 2018, December 2019, May 2021 and 2022. To understand the epidemiology, source of infection and transmission patterns
studies are underway.
The world Health network declares monkeypox a Pendamic with current 3417 confirmed cases that were reported across 58 counties.
The statement said that this outbreak is expanding rapidly on multiple continents and will not stop without global action.
President of new England complex system Institute, PhD and co-founder of WHN Yaneer Baryam said that
"There is no justification to wait for the monkeypox pandemic to grow further. The best time to act is now. By taking immediate action, we can control the outbreak with the least effort, and prevent consequences from becoming worse. The actions needed now only require clear public communication about symptoms, widely available testing, and contact tracing with very few quarantines. Any delay only makes the effort harder and the consequences more severe",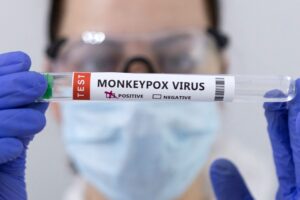 How do you catch monkey box and what are the symptoms?
Monkey Pox can be spread when someone came into contact with an animal or a person infected with the virus. It also can spread from person to person. Many evidence supports that there are different roots of monkey Pox virus transmission that include physical touch, contact with containment clothing, bleeding and objects intimate contact or sex. According to the UN health agency majority of identified cases are predominantly among those who are identified as gay, by sexual or men who have sex with men.
Earlier signs of Monkey Pox include fever, chills, headache, muscle ache, swollen lymph nodes, and fatigue. The Rash starts with redbumps which can be painful. Which can turn into blisters these blisters are pressed over and fall which can last for 2 to 4 weeks.
"Early action will have a greater impact with smaller interventions. If effective action is taken now, larger, more disruptive interventions will not be necessary. Health authorities and governments should learn from past mistakes in delayed response, it said.
One can prevent smallpox or monkey Pox virus by avoiding contact with infected animals and avoiding other materials contaminated with the virus by wearing a mask or using personal protective equipment when caring for a person infected with the virus, one can practice safe sex including the use of condoms and Dental dams, were a mask that covers your nose mouth. avoid contact with people who may be infected with the virus, and wash your hands frequently with soap and water, prevention depends on decreasing human contact with infected animals and Limiting person-to-person spread.
The vaccination against smallpox was demonstrated through several observational studies to be about 85% effective in preventing monkeypox. A newer modified vaccine based on the vaccinia virus (Ankara strain) was approved for the prevention of Monkeys' poxs in 2019. This is a two doors vaccine for which availability remains Limited.
While declaring monkey Pox a pandemic WHO said that the essential purpose is to achieve a concentrated effort across multiple countries or over the world to prevent whispered harm.
"The first 18 months of the Covid pandemic showed us that stopping the virus is a cost-effective strategy that aligns health and economic outcomes. Monkeypox is much easier to stop. This will provide a level of visibility, enabling businesses to protect their societies and economies into the future", said Cecile Phillips, Economist and President of, l'Institut économique Molinari.